Auto Biography
Park's grandfather, H. Park Hunter, was an old car nut. He tracked his life according to cars. Ask him when his eldest son was born, and he'd say something like, "That was when I had that Studebaker during the war. That was a pretty thrifty car!"
In turn, Park inherited a love for old and quirky cars, and an appreciation for all things automotive. I've owned or spent significant time with a wide variety of cars over the years. In honor of my grandfather, this is my "auto" biography: a relatively complete list of cars I've owned or spent significant time with, ordered according to when I made their acquaintance, with some brief thoughts about each and occasionally a link to a little something extra. Photos will be added when I find them.
1929 Ford AA lumber truck ("Amos") –
1976 Ford LTD ("Edna the Sky Blue Tank") –
1948 Plymouth P-15 Special Deluxe ("The Hoover") –
1939 Plymouth –
1949 Plymouth P-19 Special Deluxe #1 –
1987 Thunderbird Turbo Coupe –
1964 International Travelall ("Harvey") –
1949 Plymouth P-19 Special Deluxe #2 –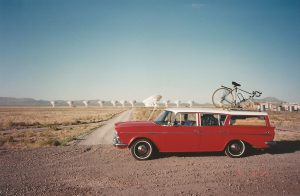 1960 Rambler Six Super Cross Country – my Thunderbird stranded me (dud fuel pump) taking my fiancé back to the airport. The garage where the 'Bird was towed had this sitting out front for $800. I'd never heard of Ramblers, but I liked the look. Since it was going to take a few days to fix the Thunderbird, I bought the Rambler and drove it home. This became my daily driver for a few years, and one of the finest cars I've owned. It didn't like cruising at interstate speeds, but it was roomy, comfortable, could haul a ton of stuff or people, and had great heat. I drove this to California, took it on my honeymoon to Door County, and moved it to New Jersey where I drove all over the East Coast in my job as an antique auto journalist. I eventually traded it for the Dart because it couldn't keep up with crazy New Jersey traffic. I wish I had back!
1960 MGA roadster –
1994 Honda Civic ("Fred") –
1962 Dodge Dart –
1964 Ford flatbed truck ("The Goon") –
1974 International Scout –
1992 Mazda 626 Turbo –
1979 Ford Pinto Country Squire Wagon –
1952 GMC 1.5 ton dumptruck ("Brutus") –
1991 Jeep Cherokee –
1969 Airstream Safari –
1987 GMC Safari panel van –
1997 GMC Safari panel van –
1996 Jeep Grand Cherokee –
1964 Airstream Globetrotter –
1999 Ford Focus station wagon –
1994 Lincoln Town Car –
1968 Winnebago camper –
1966 Volkswagen Beetle ("Herbie") –
2004 Kia Optima –
1996 Buick Roadmaster station wagon –
2005 Kia Sedona ("Lena," aka "The Mama Llama") –
1948 Crosley ("Ole") –
1999 Honda Civic LX ("Pearl") –
2002 Ford Focus SVT ("Sven") –